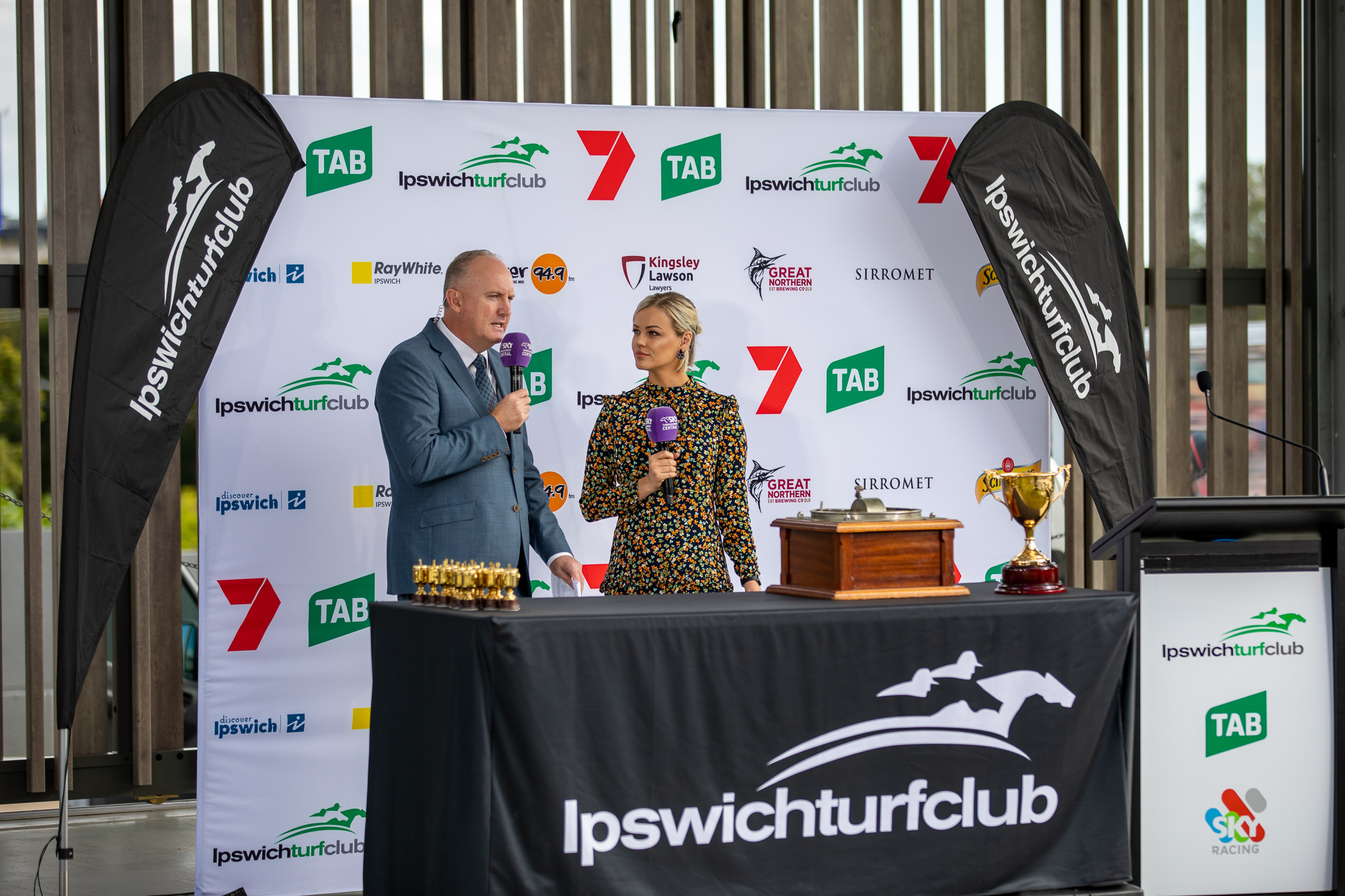 2022 TAB Ipswich Cup Barrier Draw - Winners and Losers
New
Date: 15-Jun-2022
The barrier draw for the 2022 Listed TAB Ipswich Cup was held at Tulmur Place in Ipswich's Nicholas Street Precinct this morning (Tuesday).
A beautiful day greeted those that attended the event which was hosted by Sky Racing presenters Paul Joice and Kiaarn Holland. The barrier draw was also aired live on Sky 1.
For some, confidence has grown by drawing the ideal barrier. While others will be feeling like their chances have taken a hit by drawing less favourably.
The Annabel Neasham-trained Bartholomeu Dias has been installed as the $4 race favourite wtih TAB after drawing ideally in barrier 3 for Saturday's feature over 2150m.
The seven-year-old imported gelding is coming off a strong win at Eagle Farm under Jaden Lloyd. The star apprentice remains in the saddle on Saturday.
As is the case with most staying races in Australia, Chris Waller has a strong hand in this year's Cup.
The powerful stable received mixed fortunes with the gates for their two runners, Our Intrigue and Skyman.
Our Intrigue who will be ridden by two-time Ipswich Cup winner Larry Cassidy drew nicely in barrier 7 while Skyman will have some work to do from barrier 14. TAB rates both horses great chances at $4.50 and $6 respectively.
Queensland's leading trainer, Tony Gollan, will present a two-pronged attack on Saturday's Cup. The master conditioner won the race in 2014 with Brave Ali and is pinning his hopes this year to Tavion Prince and Youngblood.
Both horses have had identical preparations, racing each other in all six starts this time in work.
Tavion Prince will be ridden by last year's winning Cup hoop Steph Thornton and will start from the coveted barrier 1. While Youngblood will exit barrier 10 for the King of Ipswich, Jim Byrne.
Gollan found it hard to split the pair when quizzed on which horse had the better chance but did suggest they represented good value at $34 (Tavion Prince) and $11 (Youngblood).
"It's hard to split them," Gollan said.
"The barriers don't really make much of a difference for either of them.
"They both won't be too far away in the run and they both will be up on pace.
"Youngblood is probably the more genuine dour stayer of the two.
"It's come up a reasonably strong Ipswich Cup but they're both good chances in it and represent good value on Saturday."
This season's Ipswich Turf Club premiership leading jockey Jim Orman will partner top weight Berdibek.
The John O'Shea grey has been supported after drawing barrier 5 and is considered a $9 chance. The eight-year-old gelding doesn't go a yard in the wet so will find the borderline Good 4 track to his liking on Saturday.
New Zealand galloper Swords Drawn was dealt a visitor's draw coming up with barrier 13. The Hawkes Bay Cup winner will be partnered by fellow Kiwi Sam Collett.
Local hopes Ballistic Boy, Street Dancer and fared well with gates 6 and 2 respectively.
While the Neasham team will be happy with the barrier they drew in the Cup, they'll be less than thrilled that Listed Eye Liner Stakes favourite Holyfield will be starting from barrier 14 if the emergencies don't gain a start.
The 2022 Ipswich Cup has attracted a capacity field of 16 plus one emergency.
2022 Listed TAB Ipswich Cup Final Field and Barrier Draw
1 Berdibek (John O'Shea) James Orman 59.5kg Barrier 5
2 Ballistic Boy (Chris Anderson) Ryan Maloney 59.0 Barrier 6
3 Bartholomeu Dias (Annabel Neasham) Jaden Lloyd(a0) 55.0 Barrier 3
4 Swords Drawn (Shaun Ritchie & Colm Murray) Samantha Collett 54.5 Barrier 13
5 Our Intrigue (Chris Waller) Larry Cassidy 54.0 Barrier 7
6 Skyman (GB) (Chris Waller) Mark Du Plessis 54.0 Barrier 14
7 Smart Meteor (Chris Munce) Brock Ryan 54.0 Barrier 12
8 Street Dancer (David Vandyke) Kyle Wilson-Taylor (a0) 54.0 Barrier 2
9 Tavion Prince (NZ) (Tony Gollan) Stephanie Thornton 54.0 Barrier 1
10 Youngblood (Tony Gollan) Jim Byrne 54.0 Barrier 10
11 Honorable Spirit (John Smerdon) Not Notified 54.0 Barrier 16
12 Spencer (David Vandyke) Ben Thompson 54.0 Barrier 17
13 Ostermeier (Alyssa & Troy Sweeney) Georgina Cartwright 54.0 Barrier 4
14 Top Order (Kim Anderson) Taylor Marshall 54.0 Barrier 15
15 Chakana (NZ) (Stephen Marsh) Anthony Allen 54.0 Barrier 9
16 Dunhill (NZ) (Kelvin Tyler) Tegan Harrison 54.0 Barrier 8
17e Lady Solerno (Ronald Cameron) Leah Kilner(a0) 54.0 Barrier 11
See all the action here - Barrier Draw
Story: Craig Sheppard
Back to list