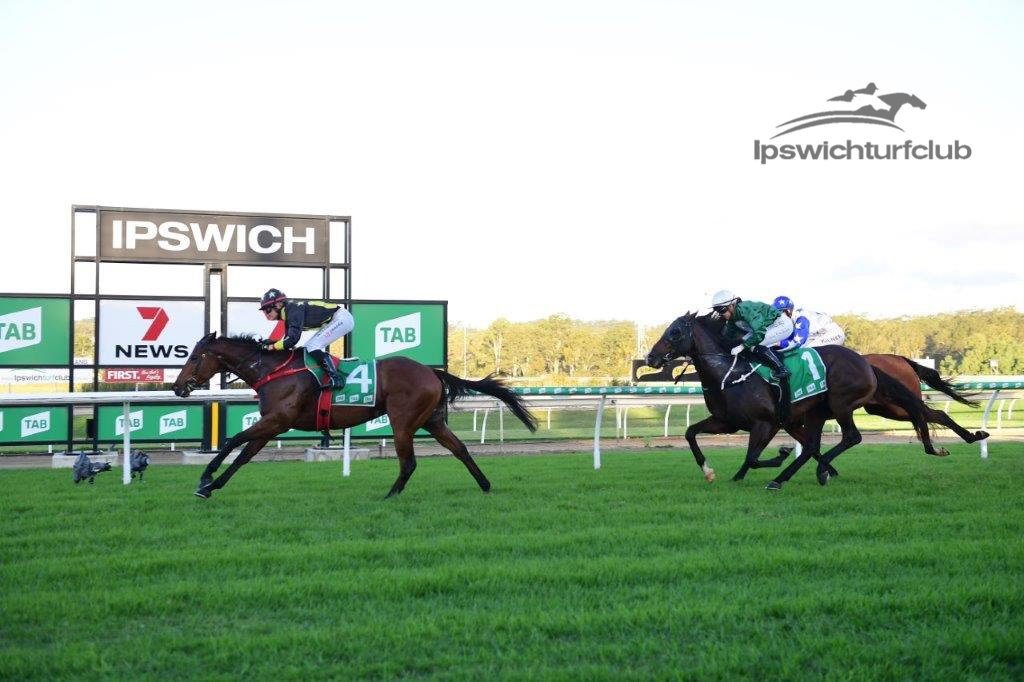 Ipswich Selections 29 May 2022
Date: 27-May-2022
By Craig Sheppard
After a false start on Thursday, we are set to host an eight-race card at the Ipswich Turf Club this Sunday. While the rain appears to have cleared and we'll be racing under mostly blue skies, given the amount of rain that has fallen in recent weeks, the track will still be in the heavy range. The rail is out 7m the entire course.
Race 1
Speed: It should just be a moderate tempo set here with Royal George, He's Viral and Ocean Royale the likely leaders.
Gear Changes: He's Viral (1) Nasal Strip OFF FIRST TIME, Mr Reddington (2) Ear Muffs (Pre-Race Only) OFF FIRST TIME, Lugging Bit OFF AGAIN, Royal George (3) Blinkers AGAIN, Ocean Royale (6) Blinkers FIRST TIME
Such is the difficulty of finding a clear top pick in this maiden for the stayers, that I'm going with Royal George (3) who is still looking for his first win in 33 starts. Could start number 34 be the charm? He found the opposition too strong when finishing sixth to Enjouee last start at Eagle Farm. That horse looks to have some ability so it was a credible effort. Three starts back he led over 2200m on a heavy 10 here before finishing 1.8 lengths second to Jimmy The Tulip. He's finished second 5 times from 6 starts over this course and distance. Blinkers go back on and Melea Castle's 3kg claim is a big help.
He's Viral (1) is only lightly raced so there is some potential for improvement. While he wouldn't have threatened the winner at Kilcoy last start over 1200m, he was held up in the straight so should have finished a lot closer and even possibly placed. Not too sure what this guy's best distance is but suspect the 2190m here will suit given he looks one paced. One big positive is Sam Collett in the saddle.
The Love Of Mary (9) has placed in 7 of her 14 career starts. Will enjoy an economical run from the inside gate.
Mr Reddington (2) put in an improved showing last start when finishing third by 1.1 lengths at Toowoomba over 1850m. Should be fitter third-up but the concern is that he's started at some massive starting prices.
On Top Selection: Royal George (3)
Race 2
Speed: Holtermann looks the clear leader on paper. He should run along. However, given the limited starts these two-year-olds have had and the inability to assign a pattern to them, there's a chance that others will go forward.
Gear Changes: Sebring Girl (6) Ear Muffs (Pre-Race Only) FIRST TIME
Sebring Girl (6) improved second-up when finishing a half-length second to Saweetie over 1200m at the Sunshine Coast. She raced keenly that day, opening up a several length lead. She fought on well in the heavy conditions but was ultimately overhauled late. The addition of pre-race ear muffs should keep her calmer. Ben Thompson can settle in a forward position and strike in the straight.
Holtermann (1) raced three-wide on speed when finishing second on debut over 1000m on the Poly. He showed plenty of heart that day. He'll be better for the experience. Boris Thornton should be able to lead and give him every chance. There's a question mark on a heavy track given he hasn't seen the surface before.
Mishani Missile (2) worked home well on the Poly over 1400m last start to get within 0.3 of a length of winner Birdonawing. He has also good on a heavy track doing similar on debut. He'll be running on but the concern is that he will give them too much start.
Brookhaven (3) finished 2.7 lengths behind Yellow Brick here over 1100m on debut. He did plenty wrong that day so expect improvement second-up. Breeding suggests he can get through the conditions.
On Top Selection: Sebring Girl (6)
Race 3
Speed: There should be a good speed set here with Road To Emmaus pushing forward from a wide gate. Epauvescent will drive forward from the inside to push for the lead.
Gear Changes: Noble Cat (1) Blinkers FIRST TIME, Lugging Bit FIRST TIME, Oso Good (18) Cross-over Nose Band OFF AGAIN, Sea Of Qi (3) Bandages (Off Hind) OFF FIRST TIME, Visors FIRST TIME, Sprigger (19) Tongue Tie FIRST TIME
Sea Of Qi (3) was well beaten first-up after racing wide at the Gold Coast. He improved second-up when second at Grafton over 1410m. He drew barrier 13 that day and was never on track but fought on well to go down by three-quarters of a length. Gets the services of Michael Murphy who should be able to settle in the first 2 or 3 pairs. Looks close to a win.
Noble Cat (1) is on debut for Barry Lockwood so take notice if the money comes. He's had five trials over the space of 15 months and is four years old so obviously has had issues. Has had two trials this preparation and both have been sound efforts. He wouldn't have to be a world beater to measure up here.
Frida's Time (4) found the line well when finishing 2.8 lengths third at the Sunshine Coast over 1400m. She was first-up after a year so will strip fitter here. Wide gate a concern.
Road To Emmaus (6) led and was only run down late when resuming at Toowoomba last start. Again draws wide so if he can get across without using too much gas then he can figure in the finish.
On Top Selection: Sea Of Qi (3)
Race 4
Speed: A genuine tempo should be set with Everlast looking to cross and lead from the outside gate with Yes We're Ready and Newmarket Miss all pushing forward.
Gear Changes: Tiger Leny (11) Winkers FIRST TIME
Our Polaris (4) was slow away and it proved costly when on debut here over 1200m. Despite that, he worked home well before condition gave out late and he came fourth by 1.9 lengths. That's A Miracle who was second has since won by over four-lengths to break its maiden. Our Polaris will be fitter second-up and gets the benefit of the inside gate. He should settle closer given he couldn't settle any worse than last time. Ryan Maloney replacing the apprentice is a significant move.
Canny Impact (2) resumed with a 4.3 length third behind That's a A Miracle at the Sunshine Coast over 1200m. While the margin wasn't flattering he didn't enjoy the best of runs. He can improve second-up with Jimmy Orman in the saddle.
Silver Galaxy (5) improved second-up when third here over 1200m. He finished off strongly after a slow start and did pass Our Polaris late. He's drawn awkwardly so will need to begin better than he has been.
Magic Mikey (3) more than likely needs further but can show up in this field. He worked home solidly over 1400m at Eagle Farm for a 5.5 length fourth behind Majestic Colour. While well beaten, he did take on Listed company at Geelong at his last start last preparation.
On Top Selection: Our Polaris (4)
Race 5
Speed: There should be good speed in this race with Desert Man, Archers' Paradox (if here), Dragon Miss and even The Tenor and Stellar Power all looking to go forward.
Gear Changes: Chezblack (6) Bar Plates (Front) OFF FIRST TIME, Ear Muffs OFF AGAIN, Ear Muffs (Pre-Race Only) AGAIN
Desert Man (2) won easily by 3.3 lengths on the Poly last start over 1100m. The start prior he led in the heavy conditions at the Gold Coast but found the 1200m a touch too long for him and he weakened for second. The drop back to 1100m here suits. Kyle Wilson-Taylor can go forward from barrier 5 and give his mount a great run despite the increased weight.
Archer's Paradox (1) was good in the Bat Out Of Hell at the Gold Coast when finishing third despite losing a plate and racing wide. He's very speedy and can handle the wet but at time of writing there was no jockey engaged so he may not start. However, if he does he can race on the speed and give them something to catch.
Dragon Miss (7) resumes here following a 28-week break. She finished last preparation in good form, winning here over 1200m. Being a Hidden Dragon she'll enjoy the heavy conditions. Will need some luck from the wide gate but will go forward for Sam Collett.
Mort Doyle (3) won two in a row here and the Sunshine Coast before finishing sixth in the Bat Out Of Hell. He's better suited back at this level but has drawn unfavourably. Gets the services of Noel Callow which is a positive.
Chezblack (6) is an interesting runner. Joined the Lindsay Hatch stable several months ago and looked super in an April trial. However, he hasn't been seen since. I would not be surprised if he ran a big race.
On Top Selection: Desert Man (2)
Race 6
Speed: Majestic Colour, Tee Amici along with Kercharmer and Birague look most likely to take up the running.
Gear Changes: Roacci (5) Bar Plates (Hind) FIRST TIME, Waikato (19) Bandages (Hind) OFF FIRST TIME, Ear Muffs OFF FIRST TIME, Tarbena (21) Blinkers OFF FIRST TIME, Cross-over Nose Band FIRST TIME, Norton Bit OFF FIRST TIME, Winkers FIRST TIME
Majestic Colour (1) looked good when winning easily at Eagle Farm over 1400m first-up. He sat in the box seat before finishing off strongly. The rise to 1700m looks like it will suit given the way he ran home and also his breeding suggests that. He finished second on debut on a heavy track so should be comfortable in the conditions. Should enjoy a great run on the speed for Jimmy Orman.
Kercharmer (11) improved last start when third over 1680m here. She should be fitter third-up. It must be noted that her only win came when third-up over this course and distance. Drops in class here.
Birague (2) unfortunately has drawn poorly so will need some luck to overcome that. He was good first-up when second to Da Party Gal over 1400m. He tended to over-race last start when finishing 6.4 lengths behind Kiss Me Millo over 1800m at the Sunshine Coast.
That'lldotoo (3) resumed with a good effort on the Poly when third over 1400m. He'll strip fitter and did run well over this distance range last preparation. He won over 2150m on a heavy track here three starts back.
On Top Selection: Majestic Colour (1)
Race 7
Speed: Merindee will look to cross from the outside gate. Senshi Spirit will look to hold it out by driving forward from barrier 1. Outside of those two the speed looks moderate.
Gear Changes: Divenire (11) Blinkers AGAIN, Visors OFF AGAIN, Enterprise Maximus (18) Winkers FIRST TIME
Gala Rain (13) copped a shoulder charge that Sonny Bill Williams would have been proud of in the straight when resuming at the Sunshine Coast last start. Despite that, she recovered to finish off well for second. She'll appreciate the rise in distance and the heavy conditions. Her only previous win came here on heavy 10 track.
Nic Me Some (4) has come back this preparation a different horse. He found the line strongly to win first-up by 2.5 lengths at the Sunshine Coast over 1200m. He then finished off well behind Devastating in a stronger race than this for a 1.1 lengths fourth. Will strip even fitter third-up.
Herecum Da Drums (1) didn't go around a horse when winning narrowly at Gatton over 1400m. He's racing well including a win here in heavy conditions three starts back. The rising ten-year-old again draws to get a great run.
Menindee (2) capitalised on some consistent form to win easily at Beaudesert last start. He's drawn the outside gate but possesses the early speed to lead. He could be suspect late however.
On Top Selection: Gala Rain (13)
Race 8
Speed: Amathuba, Bambalam and Fairy Prince should set the tempo here.
Gear Changes: All Fairy Prince (5) Blinkers AGAIN, Ear Muffs OFF FIRST TIME, Ear Muffs (Pre-Race Only) FIRST TIME, Crack Of Doom (3) Cross-over Nose Band FIRST TIME, Winkers FIRST TIME, Excuses Excuses (16) Tongue Tie OFF FIRST TIME, Winkers OFF FIRST TIME, Jac The Great (13) Winkers OFF AGAIN
Amathuba (12) worked home strongly to win her maiden at Eagle Farm last start. She was first-up that day so will be fitter here. Her form in NSW last preparation is certainly good enough to go back-to-back. While she's never been on heavy going except for a trial, she has run well on soft tracks. She should race in a prominent position for Jimmy Byrne.
Peregrination (4) was outclassed when a long last in the Gold Coast Guineas last start. He'll appreciate dropping back to this class. Tends to mix his form but does boast two placings in his past four starts on heavy going.
Crack Of Doom (3) can be forgiven for his last start failure after racing wide throughout. He was solid in Open three-year-old races in his two starts before. Would appear over the odds given those races would be considered stronger than this.
Unlikelyoccurrence (14) has been slow away in recent runs when finishing in the placings. The heavy track gives her a chance.
On Top Selection: Amathuba (12(
Best Bets
Race 5 - Desert Man (2)
Race 6 - Majestic Colour (1)
Back to list