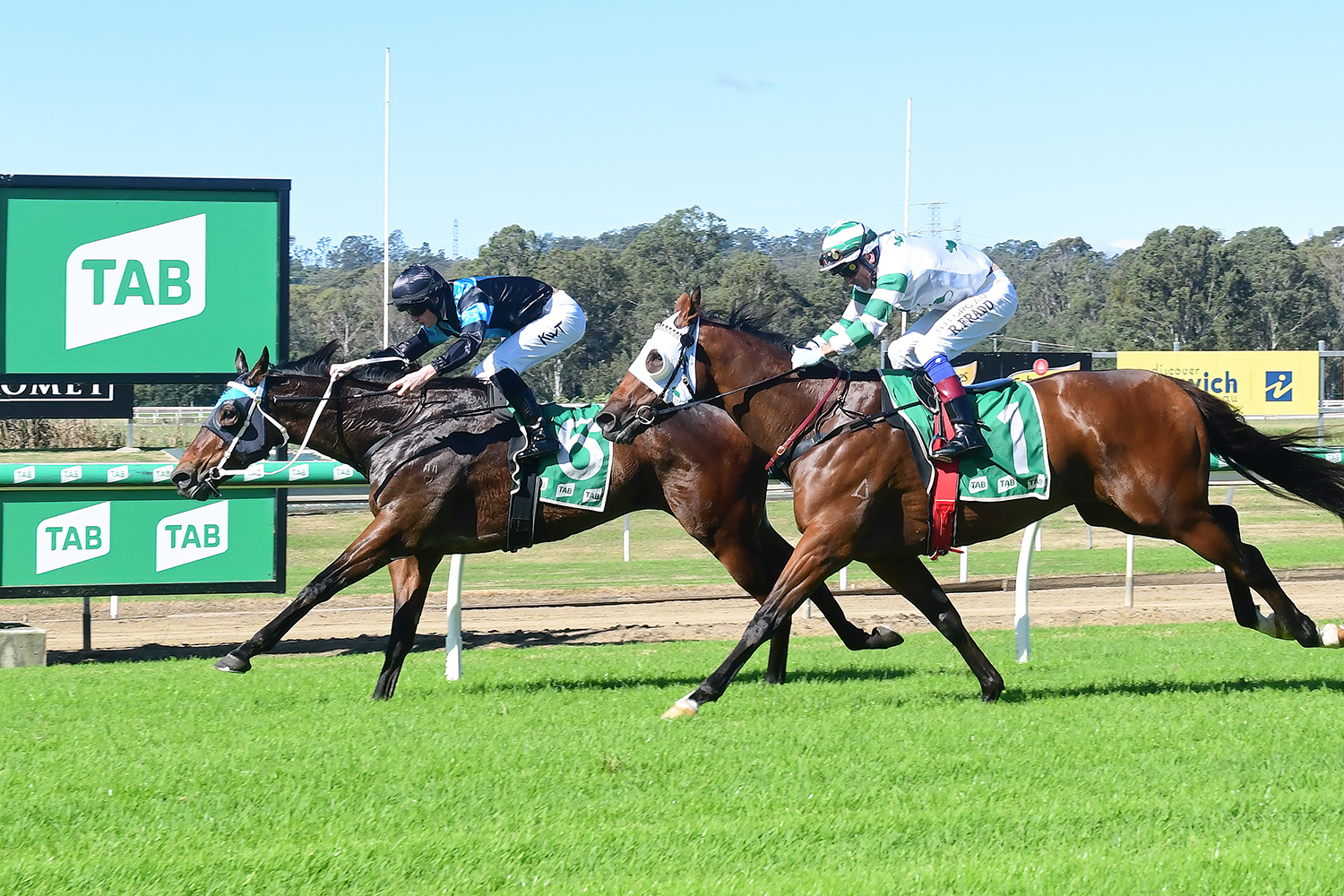 Meeting in review 29 May 2022
Date: 30-May-2022
Meeting In Review | May 29, 2022
By Craig Sheppard
Beautiful blue skies greeted participants and racegoers at Sunday's Ipswich Turf Club meeting.
A pleasant change from what we've been experiencing however, there was no denying that the past fortnight of wet weather was still playing a part in proceedings.
Despite the track being rated a Heavy 10 and jockeys reporting that it was 'quite gluey and horses were getting right into it', we were treated to some quality racing.
KWT's Race-To-Race Double
Fresh off his maiden Group 1 ride in Saturday's Queensland Derby, apprentice jockey Kyle Wilson-Taylor started Sunday's Ipswich meeting in fine fashion.
'KWT' had just the three rides on the day but left with a race-to-race double.
The talented hoop piloted the Stuart Kendrick-trained Sebring Girl to an emphatic 7.8 length win in the second race of the day, the Ipswich Cup Tix On Sale QTIS Two-Year-Old Maiden Handicap over 1350m.
After 200m, Sebring Girl found the front in the small field of three and only extended her lead from that point. The daughter of Sebring relished the conditions, something that could not be said for her rivals.
Wilson-Taylor suggested the conditions flattered Sebring Girl.
"It was pretty easy on face value," Wilson-Taylor said.
"My filly handled that (the conditions) and the others obviously didn't. She can gallop but I think it was more a case of that they didn't handle the surface and she did."
Wilson-Taylor's second win for the day didn't come as easily as his ride on Sebring Girl. He was aboard the well supported Road To Emmaus in the 1350m TAB Venue Mode Maiden Handicap.
Negating the possible awkwardness of barrier 8, Wilson-Taylor jumped to the front on the John Hubbard-trained gelding. Debutante Noble Cat loomed at the top of the straight, but Road To Emmaus pulled out plenty in the run home under the urging of the young jockey.
"I knew my bloke was fit," Wilson-Taylor said.
"He did a lot of work at Toowoomba the other day and managed to stick on and run second…it was a good run.
"He was up against a similar field today and he was too good."
https://twitter.com/SkyRacingAU/status/1530747112601792512
Harrison Bags Two Despite Losing Whip
Not to be outdone by her junior colleague Wilson-Taylor, jockey Tegan Harrison also grabbed herself a winning double at Sunday's Ipswich meeting.
In the opening race of the day, the Follow@IpswichTurfClub Maiden Handicap over 2190m, Harrison partnered The Love Of Mary.
The John Zielke-trained filly had finished in the placings at seven of her past 14 starts. Harrison gave the three-year-old an economical run off the inside gate before dashing clear to get favourite backers off to a good start.
Harrison had to wait until the seventh race of the day, the Corona Infield Festival 18 June Ratings 0-58 Handicap to register her double.
Partnering the Marcus Wilson-trained Nic Me Some, Harrison settled handy before getting her mount to the outside entering the straight. The son of Nicconi let down powerfully late to blouse roughie Birkin Black.
Despite being caught wide early, Harrison thought that may be to her advantage given how the track was.
"When I was caught wide on him, I thought this could work in my favour because I thought at this time of the day it was a touch better out there," Harrison said.
"He just got that nice bit of cover. Coming into the home straight I felt similar to when I won this horse previously.
"He was full of running and I was always going to have them."
The Ipswich Cup winning hoop revealed that the margin may have been further if she was able to use the persuader in the closing stages.
"When I let his head go, he wanted to wander in and I needed to hit him a few times to straighten him up," Harrison said.
"Matty (Powell) knocked the whip out of my hand and the rest was just to the horse's credit. I was just hands and heels and roaring at him trying to keep him off that horse so we could keep the race clean.
"He only just won but he would have won by a bit more if I was able to give him a couple more hits."
https://twitter.com/SkyRacingAU/status/1530785200178835456
Munce Racing Quinella Three-Year-Old Maiden
Munce Racing foreman Corey Munce may have been feeling down after the stable's two-year-old Holtermann was comprehensively beaten earlier in the day but his spirits would have been lifted following the completion of race 4 on the Ipswich program.
Corey, the son of legendary jockey and now trainer Chris Munce, floated three horses to the Bundamba circuit. Two of these, Everlast and Maurice's Star lined up in the Sirromet QTIS Three-Year-Old Maiden Handicap over 1350m.
Both horses enjoyed nice runs and paired off in the concluding stages to fight out the finish. Maurice's Star with Larry Cassidy in the saddle finished off powerfully and looked to have Everlast's measure but that horse lifted under Sam Collett to fight back. However it wasn't enough with Maurice's Star winning by 0.2 of a length.
"She sort of didn't really show that much earlier on," Cassidy said of the Maurice filly.
"She wanted to jump and want to go really hard. We rode her quiet a couple of times and she always needed further but she was going to keen to get further.
"She loved that going, relaxed nice and I knew we'd be a fraction closer today. So she's improved and loved that going, it was testing ground."
Cassidy pointed out that Maurice's Star carried 55kg instead of the allotted 54kg.
"It was a good little finish and I prevailed. Chris put me a kilogram over and I told him it didn't matter," Cassidy joked.
https://twitter.com/SkyRacingAU/status/1530755662023512064
Orman And Collett Go Head To Head In Ipswich Jockey Premiership
While Larry Cassidy got the better of Sam Collett in race 4, the popular New Zealand jockey didn't take long to register a win of her own.
In fact it came in the very next race, the Schweppes Open Handicap with Dragon Miss.
Collett, who some have nicknamed 'The Queen Of Ipswich', worked forward from an outside gate to settle second in the 1100m sprint. Punters hammered The Tenor in betting and it looked like they were going to pull off the plunge as John Dann-trained gelding opened up a big lead. Collett went to work in the final furlong on Dragon Miss to claim victory in the shadows of the post.
The three time Group 1 winning jockey was full of praise for her mare.
"It's pretty hard work out there and I knew with the torrid speed it was probably going to eliminate a lot of horses that were behind us as they'd have a bit of work to catch up," Collett said.
"My little mare is as tough as anything, full credit to her. I really thought the leader had me off the bridle and really chasing hard at the corner but she regrouped after we straightened.
"Once she balanced, she gave me that maximum effort at the end"
The win took Collett's season tally to 18, one ahead of Jimmy Orman on the Ipswich Turf Club Jockey premiership.
https://twitter.com/IpswichTurfClub/status/1530766882047164416
Orman has been riding in tremendous form and it should not come as a surprise that he quickly reclaimed an equal spot at the top of the premiership.
Majestic Colour looked the good thing of the day and it duly saluted under Orman in race 6, the Great Northern Class 1 Handicap.
To the disbelief of some punters, Majestic Colour drifted to the backable starting price of $2.10. The Kelly Schweida-trained son of So You Think quickly got into a great spot, settling third. With 500m to go, Orman started improving his position. By the time they straightened for home, he had drawn level with the leader. From there it was all over. The three-year-old dashed clear to win by four-lengths eased down on the line.
Orman believes that three-year-old has a bright future ahead of him.
"He got through it (the conditions) really well," Orman said.
"I got a good run sitting just off the speed. He relaxed pretty good.
"He's still learning his craft this fella but he's got a lot of upside. He's pretty exciting.
"Look he didn't beat much today but he did it pretty easy. Onwards and upwards for him.
"I didn't want to wrestle him too much and when I had a lapful I thought I would improve just before the corner.
"He was too good."
https://twitter.com/SkyRacingAU/status/1530776271482937345
Crack Of Doom Goes Boom
The final race of the day was decimated by scratchings. However, connections of Crack Of Doom won't care too much about that as their 'little warhorse' delivered in a big way.
Crack Of Doom had been competing in stronger class races so Sunday's Barn Family Restaurant Ratings Band 0-65 Handicap was going to be to his liking.
Given a great ride by Sean Cormack, the Rochelle Pereira-trained three-year-old settled midfield before unleashing a powerful finish to win by half a length.
It was a lucrative trip to Ipswich for Cormack with Crack Of Doom being the former South African hoops only ride on the day.
Horses To Follow
Race 6 - Majestic Colour: He didn't beat a great deal but the way he went about it was impressive. It's no mean feat to rise from 1400m first-up to 1700m at your second start but he did it effortlessly. Jimmy Orman's post-race comments suggest that the son of So You Think has ability. Today's win was just a Class 1 but it will be interesting to see where Kelly Schweida goes next with him. Wherever that is, it will pay to follow.
Race 5 - Skins: Like most horses at Sunday's Ipswich meeting, Skins was not comfortable in the Heavy 10 going. He was backed into favouritism for the Open Handicap so he must have shown signs that he was going well after nearly a year off. He worked home fairly behind a hot speed for a three-length third which was a solid effort given everything he faced. He'll be fitter second-up and will appreciate a dry surface.
Back to list