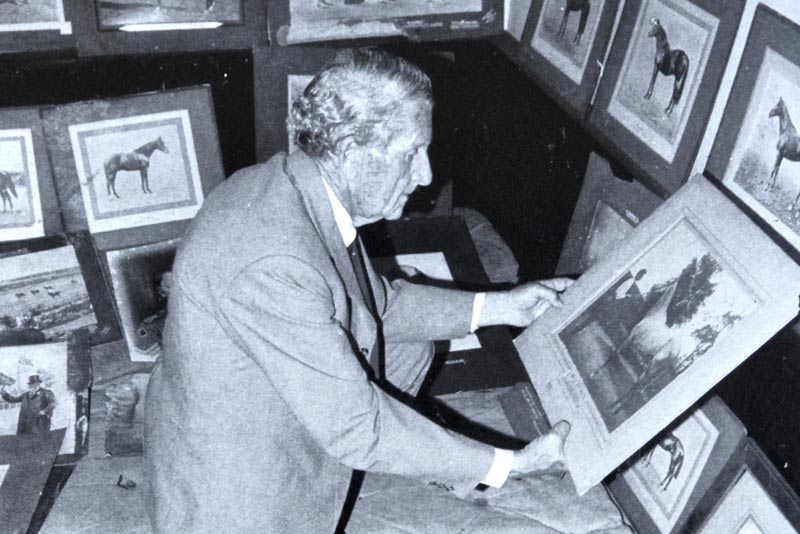 The McGills - The Horses
Date: 27-Oct-2021
Seemingly, James McGill's name first appeared as an owner in the N.A.J.C. records at its annual race meeting in June 1867. His horse Prospect was successful when matched for £5 against one of Charles Pack's hopefuls. Souvenir, Euclid and Sunrise sported McGill's royal blue colours at the club's renewal in May 1876.
McGill's sons Frank, Jimmy and Abraham naturally played major roles in the firm. Talented and loyal horsemen in Tom Sowerby and Bert McGill (no relation) were also high on the list of human resources.
The citings below about the non-betting breeder-owner- trainer's string are just the tip of the iceberg. The examples show his principal achievements. They were all at Queensland Turf Club meetings at Eagle Farm as Doomben did not get under way until 1933.
Outcomes of journeys to places such as Rockhampton, Maryborough, Warwick, Toowoomba, Gympie and towns north to Charters Towers are not covered here. Many clubs in the fledgling days conducted affairs just once a year. Understandably, records of results are scant.
McGill's breeding decisions struck a rich vein. J.P. Bell, who was knighted just months before his passing, had invested in an English mare named Olive. Her grand-daughter Oliveria was a valued brood mare for James.
Buckthorpe, an imported son of Doncaster (Epsom Derby, Ascot Gold Cup, Goodwood Cup), really was a hit. The stallion furnished the "Squire of Blacklands" with the likes of the Exhibition Handicap winners Royal Blue (1906) and Booval (1894) as well as the Stanley Plate victors Buckthorn (1903) and Young Buckthorpe (1894). Notre Dame (1899 Sires Produce Stakes) and Chesterfield were other smart performers.
The offspring of Buckthorpe and Oliveria included North Australian (1899 Prince of Wales Cup), Bucolic (Southport Handicap) and Olive Branch (1898 Newmarket over 12 furlongs, Sandgate Handicap). The trio all won at the Farm on the same card in 1897.
Incidentally, North Australian's skeleton was given to the Queensland Museum.
Westminister, the grandson of the English sire Touchstone (St Leger, two Ascot Gold Cups, two Doncaster Cups), stood at Bigge's stud at Mount Brisbane. The bay's bloodstock that was successful for McGill included the brothers Preston (1884 QTC Moreton Handicap) and Pirate (1887 Royal Stakes, Brisbane Handicap) and the Brisbane Cup winners, the brothers Lancer (1885) and Lyndhurst (1890). Musician picked up the 1892 Moreton Handicap.
Sunrise came along bright and early. In 1877, the mare from the same family as Palestine (1861 VRC Oaks) lifted the first of McGill's seven Brisbane Cups. The trainer who favoured maize as a staple and long gallops for his steeds also picked up Cup placings with the St Leger winner La Grange, Pirate, Preston, Musician and Young Buckthorpe.
Proctor (1882 Brisbane Cup, Moreton Handicap,1881 Brisbane Handicap) was very handy. Along with Preston, Lyndhurst and Pirate, he was in the frame in a Queensland Cup, the only top event to elude McGill.
Foreman (1888 Sires Produce Stakes), Grandchester (1888 Hopeful Stakes,1889 Autumn Stakes) were well performed two-year-olds. However, neither could match the feats of a "stablemate" of the next century.
---
Story By Ross Stanley. Continued from part 1 - click here
Back to list