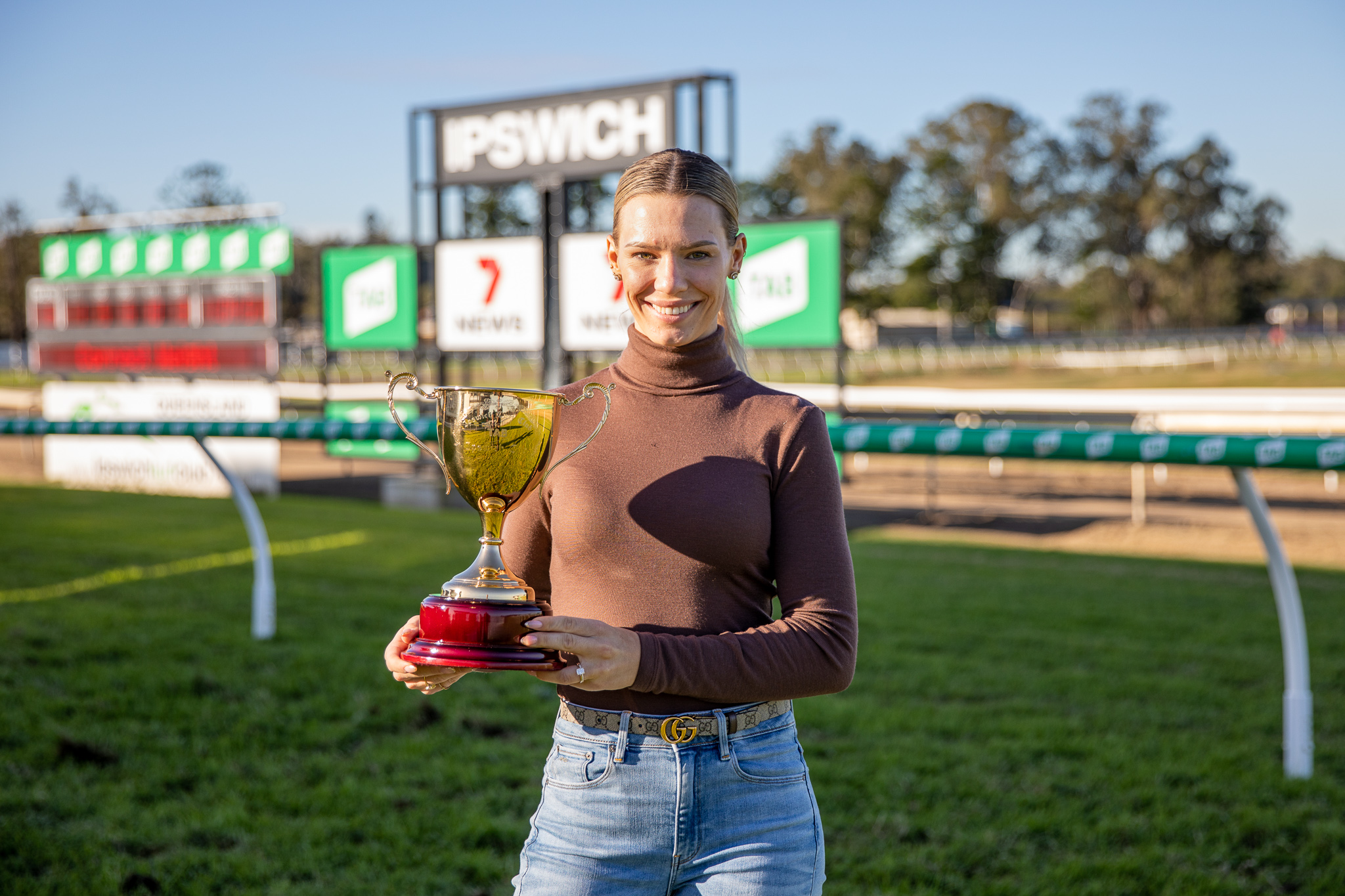 Thornton's Quest For Back-To-Back Cups
Date: 13-Jun-2022
Jockey Stephanie Thornton was the toast of Ipswich last year after she piloted outsider Happy Go Plucky to victory in the Listed Ipswich Cup.
The hoop with the million dollar smile is out to replicate her heroics on Saturday when she partners with the Tony Gollan-trained Tavion Prince in this year's edition of the time honoured feature race.
Thornton, who moved to Brisbane from Victoria in 2019 in search of better opportunities, rates her 2021 Ipswich Cup as one of the more memorable of her career to date.
"It's definitely up there," Thornton said.
"It was my second black-type win so it's well and truly one for the memory bank for me."
Happy Go Plucky was given little hope by punters in last year's Ipswich Cup. The John Gilmore-trained gelding started a $26 chance after drawing barrier 11 of 12. The wide gate mattered little as Thornton produced an excellent ride on the seven-year-old.
"To be honest it probably couldn't have worked out more perfectly for him from the draw," Thornton recalled.
"We got into a beautiful spot and he's an absolute gentleman of a horse to ride. He made my job very easy.
"He loves what he does and he knows what he's out there to do.
"He put up a really good fight in the straight. I felt the favourite, Waller's horse (So You Win), get to my girth but 'Happy' had plenty underneath me and he held them off."
Partner Ben Thompson added to what was already a memorable Ipswich Cup day by claiming the Listed Eye Liner Stakes and Gai Waterhouse Classic. Thornton is typically aiming high and aspiring to achieve the same feat on Saturday.
"It was a brilliant day all round for both of us taking out the three features," Thornton said.
"I still say to Ben that I get bragging rights because I won the main one. We couldn't have had a better day really.
"So no pressure but we're going to have to try and have to do the same again this year."
Racing's glamour couple recently married. In no way has that weakened their healthy rivalry with another.
"A lot of people think that just because we're together we might give each other a little bit of hell but it's quite the opposite as I think it makes us more competitive," Thornton said.
"We're always trying to beat one another."
Last year, Thornton became only the second female jockey to win the Ipswich Cup following Tegan Harrison's 2014 victory.
On Saturday she will partner six-year-old gelding Tavion Prince in her quest to win back-to-back Cups.
"I'm riding Tavion Prince for Tony Gollan in the Ipswich Cup." Thornton said.
"I've ridden him the majority of his recent starts in this preparation. He's been racing really well.
"He had a little freshen-up and then ran at Eagle Farm the other week which was a really nice tickover race for him.
"I think that Ipswich will really suit him.
"He's an on speed runner and he takes a lot of bad luck out of the equation."
The roar of the 15,000 strong crowd guided Thornton back to the winner's stall last year and she would love to experience that feeling again. It was the first time that the popular jockey had experienced an Ipswich Cup day atmosphere.
"I thought it was great," Thornton said.
"I was able to concentrate enough that I could still hear the crowd down the straight.
"That's the best thing about a big day, the atmosphere.
"I think it's so important to be able to take that all in because it's why we do it for those big days and to be out there and to be able to hear everyone around having such a great day.
"I think it's more enjoyable when we have atmospheres like we do on Ipswich Cup day."
Story: Craig Sheppard
Back to list