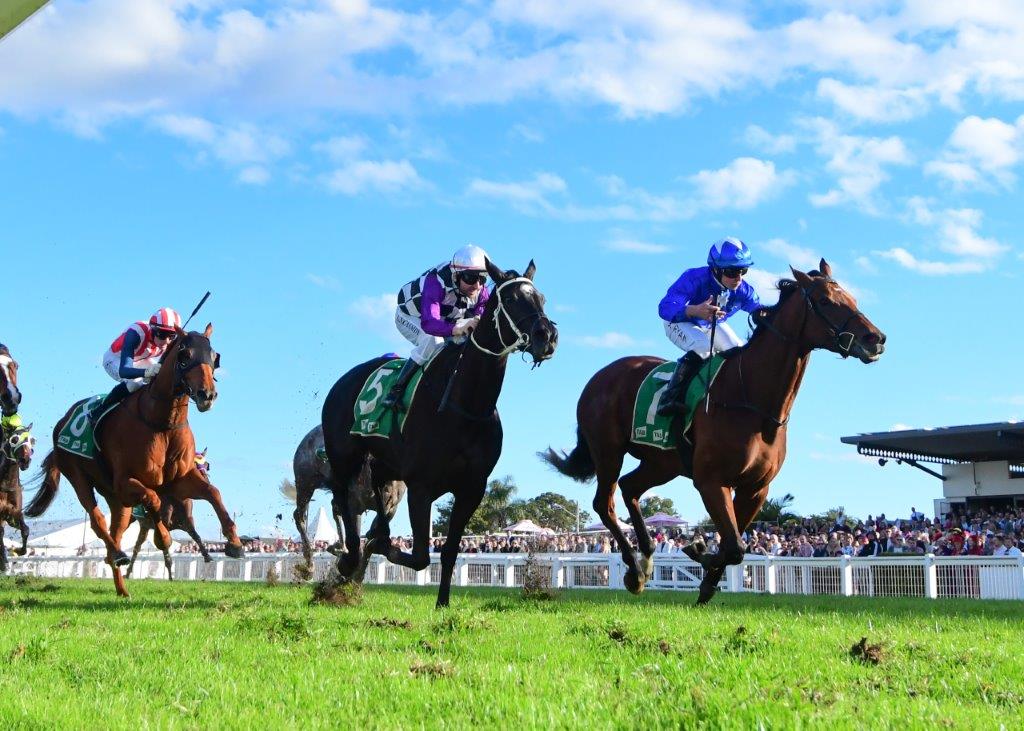 2022 Ipswich Cup Meeting In Review
New
Date: 20-Jun-2022
The Ipswich Cup meeting attracts a massive crowd every year and Saturday's 2022 edition was no different.
While the Ipswich community revelled off the track at the city's social event of the year, they were treated to some highly competitive racing on it.
There was no doubt that the star of Saturday's meeting was Chris Munce and his team who claimed two of the three black-type races.
Munce's Ipswich Day Out
The Chris Munce stable has been in great form lately and that continued on Saturday with multiple feature victories.
Just last week, the stable won their first Group 2 race when Palaisipan took out the Group 2 Dane Ripper Stakes. Boomnova also won multiple Listed races throughout this year's Queensland Racing Carnival.
Munce won the 1994 Ipswich Cup on Oompala as a jockey. His name now appears on the honour board as the trainer of 2022 TAB Ipswich Cup winner Smart Meteor.
Jockey Brock Ryan settled slightly worse than midfield in the run. He got his mount to the outside as they entered straight before the five-year-old gelding let down beautifully to win.
You get the feeling that winning as a trainer provided Munce with greater satisfaction.
"It's a great thrill," Munce said.
"It's really, really a big thrill. So much goes into a horse like this.
"I really targeted this race and said to the owners to be patient. I wanted to make sure I got him in with a light weight.
"Everything went to plan and I set Brock very strict instructions. I didn't want him getting caught wide on the corner as it's a tight little track.
"He rode him fantastic. He rode him great and the horse delivered.
"If I had a stable full of horses like this guy, I'd be very happy because he puts in every time he goes to the race."
The good times continued for the Munce stable when Centrefire carried their colours to victory in the final race of the day, the Listed Gai Waterhouse Classic.
The daughter of Shooting To Win has been a consistent performer for the stable and black-type always beckoned for the mare. That finally came on Saturday for her terrific group of owners.
Jockey Sam Collett used barrier 1 to advantage and jumped straight to the front. The pair dictated proceedings before dashing clear in the straight and fending off the late challenge by Maybe The Best.
"It's been a terrific day," Munce said.
"I really thought this mare with the one gate really had a genuine winning chance.
"I was a little concerned with how the pattern of racing was but she's really fit. Sam knows her so well and rated her beautifully.
"For the horses we've got, they've raced as well as I possibly could have asked.
"They've all been healthy, happy and fit horses. It would be nice to get a few more like them.
Collett has built a strong relationship with Centrefire and gave the mare a super run in front.
"She had a couple of runs in quick succession after that really nice Doomben win," Collett said.
"Her work early in the week was massive, I was really happy with her. When she drew the one marble I was even happier.
"I used her tactical speed and had a lapful of horse most of the way. I was keen to put them a little bit to the sword early in the straight as I knew I had a comfortable enough lead.
"She's so well. Chris' team is flying so I'm pleased to be a part of it."
Collett - The Queen Of Ipswich
Her win aboard Centrefire capped a memorable day for popular kiwi jockey Sam Collett and provided her with a winning double.
Earlier in the day Collett rode Toowoomba gelding Jakama to victory in the Great Nortern Ipswich Mile.
As we've come to expect from the three-time Group 1 winning jockey at Ipswich, it was a near perfect ride.
After jumping well, Jakama was shuffled back through the field at around the 1000m mark. When Magic Charlee took off with 800m to go, it played into Collett's hands. While others were tasked with roping in the leader, Collett allowed things to unfold before getting to the best part of the track in the straight and charging home to claim a narrow win.
Trainer John Dann paid tribute to Collett for her winning ride.
"She goes well on him," Dann said.
"She hasn't had many rides on him and that's twice now she's won on him at Ipswich.
"He goes well for Sam."
In recent months, Collett has been involved in a battle with Jimmy Orman for the Ipswich Jockey premiership lead. Her two wins on Saturday saw her reclaim top spot.
Riding two winners including one of the day's main races was made extra special for Collett as she had her father Jim there to witness it. The pair hadn't seen each other since November last year when Sam made her move to Australia.
Holyfield Impresses In Eye Liner Romp
When Holyfield drew barrier 16 for Saturday's Listed Eye Liner Stakes, connections would have felt dejected.
However, it mattered for little as the talented Annabel Neasham-trained galloper made light work of it in impressive fashion.
Ridden by Brodie Loy, Holyfield worked forward from the wide gate to race on the speed. The young jockey, who recently moved to Queensland, pushed on to lead on his own before putting his rivals to the sword in the straight.
Loy moved to Queensland for better opportunities. There is no doubt they will come given the way he piloted Holyfield to victory.
Holyfield and Loy share a special bond and Saturday's feature win added another chapter to their story.
""He's been a dream horse," Loy said.
He was my first provincial winner when I moved to Sydney and I stuck with him to get my first Saturday winner. Now my first Stakes winner in Queensland, it's just lovely.
"He's been knocking on the door his last two. Third-up today he was fit.
"When I went to the gates, he half took off on me and I thought 'gee he's on here today'.
"He obviously had to work a little bit hard from the half mile. Around the 500m, 400m I felt like I got a really decent breather and he was able to sustain that and was tough to the line.
"Full credit to Annabel and the team. It's just great."
Earlier in the day, Loy and Neasham combined with Ready My Future to win the Provincial Stayers Final.
The Big Goodbye Farewells Rivals
You'd love to have a stable full of horses like The Big Goodbye. Prior to Saturday's Class 6 Handicap over 1100m, his record read five wins and 12 placings from 19 starts.
It should come as no surprise that his sixth career win came in typically tough fashion.
Orbisyn served it up to The Big Goodbye in the early stages as the pair fought for the lead. Leah Kilner took the sit in second before a fight ensued in the straight. 'TBG' has a massive will to win and pulled out plenty to get the better of his rivals.
Trainer Rob Heathcote was pleased that the Queensland Rogues poster boy was able to get the win for his many owners.
"I'm tipping the win put a big smile on the Queensland Rogues, go Queenslander!" Heathcote said.
"I walked around the track among twenty thousand people and I reckon eleven hundred have come up and shook my hand and said, 'go The Big Goodbye'. It's wonderful.
"I give Leah a fair bit of credit for that ride. She's got a great affinity with the horse….she loves the horse to death.
"I said to her that if they want to attack you then let them as the one thing The Big Goodbye has is a big heart. We also know he has a good level of ability too.
"Well done Leah Kilner….very happy."
Roughies Reign Supreme
Punters looked in for a tough day at Ipswich on Saturday when Hattusa won the on the opening race at massive odds.
The Helen Page-trained Hattusa was coming off a last start maiden win at the Gold Coast and appeared to be taking quite a rise in class.
Despite starting at $41, Page was confident about a strong performance and happy she stuck with Tiffani Brooker in the saddle.
"I was quiet confident because Tiffani was really impressed with her and wanted to ride her," Page said.
"The horse is fool proof, she'a a beautiful filly.
"I stick by the girls that stick by me."
Page commented that she thought Ipswich Cup day was wonderful but was glad that Hattusa was in the first race.
The big priced winners kept coming with Princess Bojack knocking most people out of the opening leg of the quadrella.
The Michael Nolan-trained filly officially jumped at $41 but those that backed her on the tote were getting as much as $58.
While favourite backers were on the floor thanks to Coco Rox blowing the start badly, Mark Du Plessis was giving Princess Bojack a peach of a ride with the light weight.
Smart Meteor also started at $20 in the Ipswich Cup to add more pain to punter's hip pockets.
Horse To Follow
Race 8 - Desert Lord: This was a huge run by the David Vandyke trained galloper. He sat at least three-deep in the run but still came stormed home to finish second, 1.5 lengths behind Holyfield. The Glasshouse Handicap in two weeks on his home track of the Sunshine Coast looks ideal.
By Craig Sheppard
Back to list