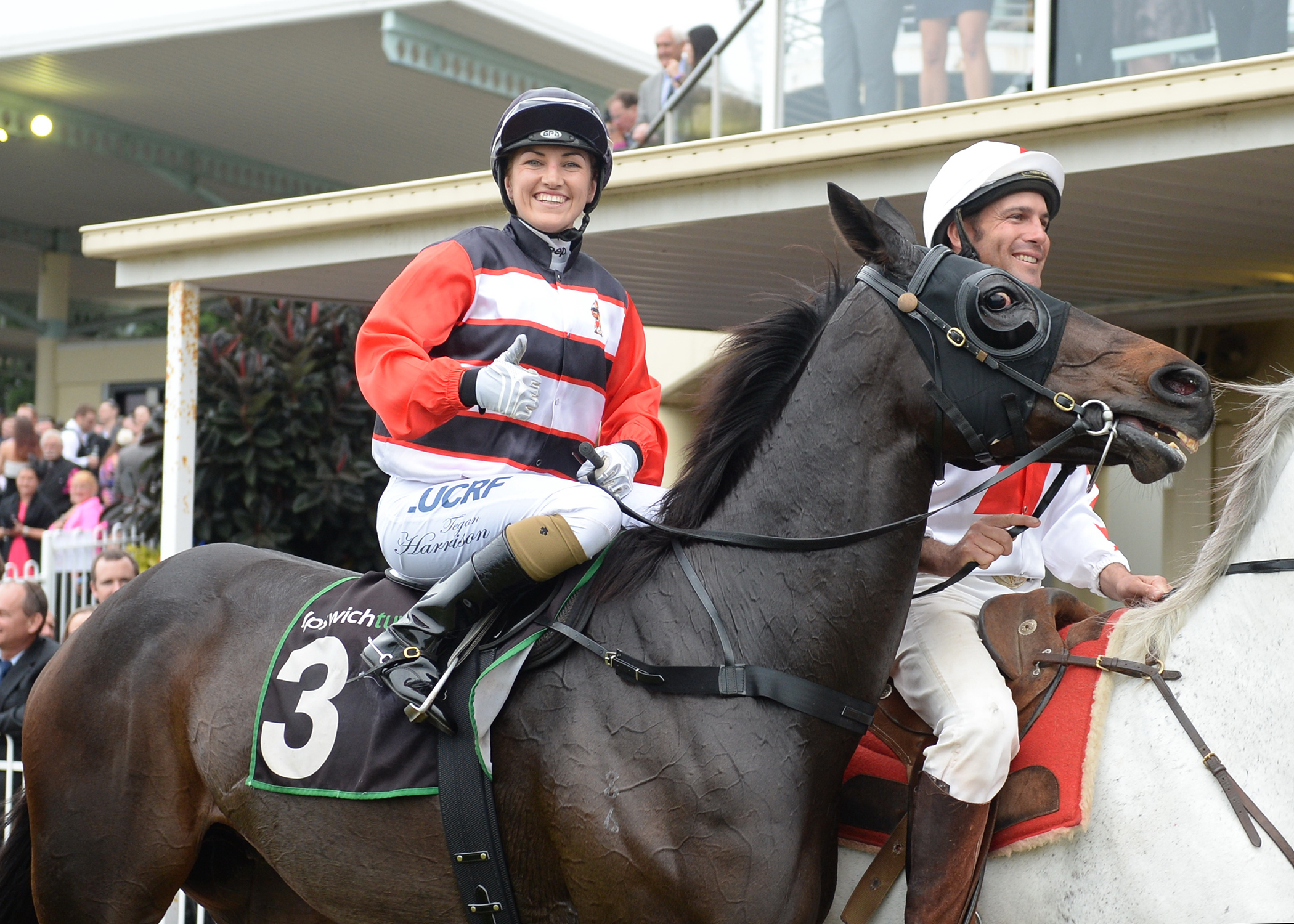 Brave Ali's Ipswich Cup Win Provides Harrison With Special Memories
Date: 09-Jun-2022
In a career that spans 12 years and over 680 wins including the Group 2 Victory Stakes on Temple Of Boom, jockey Tegan Harrison rates her win aboard Brave Ali in the 2014 Listed Ipswich Cup as one of her most memorable.
Harrison developed a special relationship with Brave Ali from the moment he joined Tony Gollan's stable as a seven-year-old.
The pair won three of their first four starts together including the Listed Tails Stakes prior to lining up in the 2014 Ipswich Cup.
The then 25-year-old had been taking Brisbane racing by storm and had earned a reputation as a terrific judge of speed. That was prevalent in her Cup ride.
Brave Ali jumped well and Harrison had him going forward shortly after they left the gates. By the time they passed the winning post for the first time, the Grafton-born hoop had her mount in the lead.
Harrison dictated terms in front until the 900m mark when Larry Cassidy applied pressure on Grey Assignment. Brave Ali and Grey Assignment duked it out from that point, clearing out by over five-lengths as they straightened for home.
Under hard riding from Harrison, the son of O'Reilly pulled out plenty to fend off Grey Assignment and the chasing pack for an emotional one-length win.
It's been eight years since Brave Ali won the Ipswich Cup but Harrison still holds fond memories of the horse and the feature win.
"Brave Ali was a special horse to me," Harrison said.
"My Nan told me very early on to stick with the horse as she thought he went really well. I went on a great journey with him.
"I think the Ipswich Cup was my last win on him. There was a big crowd on the day with lots of atmosphere and by that time my Nan had actually passed so I felt like I had her riding with me.
"It was such a good feeling that win. To come back after the race and have all that atmosphere on top of what I was feeling, it's up there with one of my most favourite wins."
Harrison is the first female rider to win the Ipswich Cup. While proud of that achievement, she hopes that she is just the first of many women to raise the trophy.
"It was pretty cool," Harrison said of being the first female jockey to win the Cup.
"I got a good thrill from seeing one of my mates in the jockey room, Steph Thornton, winning it last year.
"That was really good to see knowing that I was the first female to win and that it happened so soon after.
"Hopefully it's started a trend and we can get a few of these cups back in the girls jockey room!"
Unfortunately, it doesn't look like Harrison will have a ride in this year's Ipswich Cup. The former Queensland leading apprentice is certainly open to any opportunities if they happen to arise.
"If I'm being honest, I probably don't have anything at the moment that would be heading towards the Ipswich Cup," Harrison said.
"I've just come back from injury at the start of the year and I've found a nice horse in Yiska and outside of that I'm probably looking for some better quality horses to head for races like the Cup.
"I mean if something came up it would be very exciting to be in it again but at this stage I have nothing lined up."
While Harrison may not take part in this year's Ipswich Cup race, she is looking forward to being a part of the day. The popular jockey noted that the Ipswich Turf Club is 'going ahead in leaps and bounds' and It's a race day that she looks forward to each year.
"I'm actually really stoked as I do have a ride lined up for Ipswich Cup day," Harrison said.
"When that specific trainer told me that's where it's heading, I thought, beautiful as that's one day that I don't want to miss.
"It's just something different, Ipswich Cup day. Everyone's out in the middle and there's atmosphere on both sides of the track.
"I think the horses like it too. I think it gets everyone's adrenaline pumping with the big crowd and it will be really good to see again."
Story: Craig Sheppard
Image: Trackside Photography
Back to list