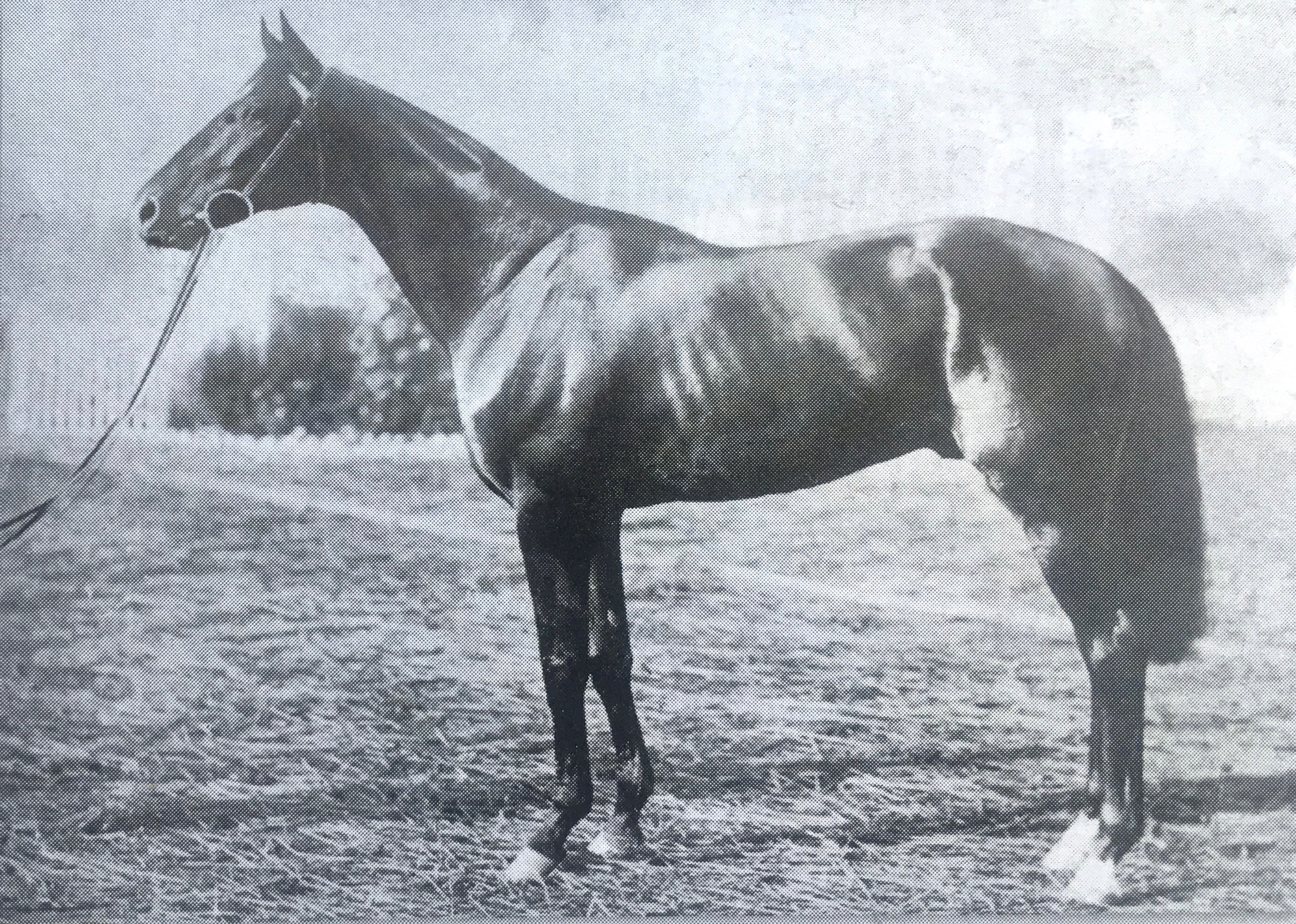 The McGills - Fitz Grafton
Date: 28-Oct-2021
The jewel in the McGill crown was Fitz Grafton, a popular colt from Olive Branch by Grafton, a son of Galopin (1875 English Derby). Further matings of the same produced Fitz Grafton's sister Olive Leaf and brother Truce, respective winners of a Midsummer Handicap and an Autumn Stakes for McGill. Olive Leaf's foal by En Garde raced as Olive Garde (1915 St Leger). After James donated him to the Soldiers Repatriation Fund, he stood at Tamrookun at Beaudesert.
Grafton blossomed to be a leading stallion. His offspring embraced 48 stakes winners of 108 principal races. Cetinge was his brightest star, winning the 1915 AJC Derby, 1918 VRC Newmarket and a dozen other high class contests.
Fitz Grafton, at two, was unplaced on debut in November 1902. On resuming on 11 April, he dead-heated for first but was out of the picture two days later. However Fitz Grafton (6 stone 7 pounds, 7/1) bounced back on 23 May. He led all the way for McGill's apprentice Jack D'Arcy in the £250 Stradbroke (6f) and became the third of six juveniles to claim the trophy.
The impressive bay rounded out his freshman season by taking out the Claret Stakes (6f) for two-year-olds on 25 May and by downing his older rivals in the Royal Stakes (1m) on 30 May.
After a winter rest, Fitz Grafton grabbed the Guineas-Derby double for jockey Billy Kaesen prior to failing in the Queensland Cup. In the autumn of 1904, the three-year-old added the Sandgate Handicap to his resume before Frank Mullen booted him home in the St Leger and the Brisbane Cup. Although he did not run in that year's Melbourne Cup, he was weighted to carry nine stone.
Fitz Grafton was asked to win at Randwick just as Lyndhurst had done in a Squatter's Handicap. This time the objective was the 1904 Craven Plate and the consequence was an unfortunate, narrow defeat by Emir.
The Queenslander's rider Archie Scott, a former McGill apprentice, was apparently unwell. In fact, he lost his life to tuberculosis during the following year. Another opinion was that Scott had been too busy observing challenges on his outside and did not notice Emir sneaking up on the inside.
Back in Brisbane, Fitz Grafton was freely tipped to overcome his master's Queensland Cup hoodoo. Alas, he was found to be lame on course and was a very late scratching.
In 1905, with Stan Thomas as pilot, Fitz Grafton won the King's Plate on 27 May. Two days later, he harvested his second Brisbane Cup (with 10 stone) and made it a hat-trick in the Royal Stakes just four sunrises later.
After the Cup, the Brisbane Courier of 30 May 1905, reported that "the scene which followed on Fitz Grafton's victory was one of tremendous enthusiasm, the like of which was never seen before on a Queensland racecourse.
"The cheering, the clapping—in which fair ladies joined —was long and tumultuous, one and all, irrespective of sex, being eager in their desire to show their appreciation of a gallant deed of a gallant horse.
"When the Cup came on for decision, the enclosures were occupied by probably not less than 7,000 and 8,000 people."
At five, his credits were the 1905 Spring Stakes, Stanley Plate and a Rosehill Handicap over 10 furlongs on 27 March 1906.
Following a sale to Indian interests in April 1906 for around 2,000 guineas, Fitz Grafton proved his mettle by taking out the 1906-07 Viceroy Cups (14f) for the Australian hoop Billy Evans at Calcutta. He also picked up the 2007 King's Plate there and finished fourth in the same event with 10.3 in 2008.
Rules of the time decreed that Indian bloodstock could not enter Australia. Fitz Grafton never returned home. There were suggestions that he ended up in Europe.
---
By Ross Stanley. Continued from part 2 - click here
Back to list